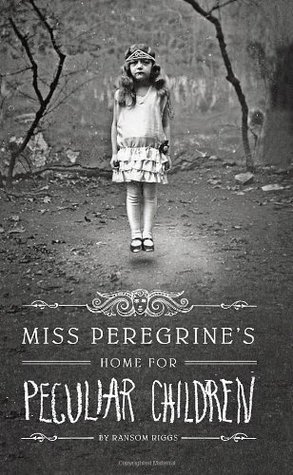 A mysterious island. An abandoned orphanage. A strange collection of curious photographs.

A horrific family tragedy sets sixteen-year-old Jacob journeying to a remote island off the coast of Wales, where he discovers the crumbling ruins of Miss Peregrine's Home for Peculiar Children. As Jacob explores its abandoned bedrooms and hallways, it becomes clear that the children were more than just peculiar. They may have been dangerous. They may have been quarantined on a deserted island for good reason. And somehow—impossible though it seems—they may still be alive.
I recently finished this trilogy, and no not because the movie is coming out, but because I had been aware of it for awhile now and one of my friends pretty much forced me to read it after she received the third and final instalment so that she would have someone to talk about it with. I had seen the first book of this trilogy at many a bookstore and library but had never actually picked it up because  I assumed from the sometimes creepy pictures included with the narrative that it was a horror novel. As I don't like horror films, I couldn't imagine that I would like a scary novel. Apparently I wasn't the only one given this impression either as several others have told me the same thing as I have talked about the series. Much to my delight the series leans a bit more to urban fantasy (sort of) than horror.
These peculiar children have powers, each a different one. It's all inherited from genes, but it is recessive (I assume) as it often skips a generation or two. As the world is not kind to those who are different in anyway these children are taken under the literal wing of a ymbryne. It's hard to talk about much of this book without spoiling anything as the protagonist doesn't know anything about this peculiar world he becomes a part of at the beginning of the narrative.
That being said, I can give my general opinions of the story. I did truly enjoy it, though I wouldn't call it one of my favorites. The world, characters, and plot are all interesting and engaging, but I didn't feel as though I truly fell into these books. Yeah that's not going to happen with everything that I read, but I do consume books much more quickly and passionately when it does.
I loved that mental health played a part in this narrative. The main character even sees a psychiatrist! Though if you read it, you will see that there is a reason or two I later wish a few things regarding how mental health is talked about were different. While I don't feel the books give the most positive portrayal of mental health professionals, institutions, and disorders by the end of the trilogy, it is nice to have those elements in books. Mental health is super duper important and putting it in young adult novels will help destigmatize mental illnesses if done well. Riggs's portray isn't perfect, but I appreciate it being there.
To me the romance in the trilogy is a tad forced, but romance does play a crucial role in most YA books. I like both parties involved in the romance, I just felt that they needed to actually get to know eachother a bit more for me to buy into it a bit better, but then again, there isn't too much time for talking when saving the world and going through major life events together does cause attachments. Maybe I'm just getting more cynical as I age too. The thought of a sixteen-year-old finding their love seems a bit silly to me as I'm now 21 and have never been on a date. It's just not a priority in my life, and as much as I love romance in both books and media, sometimes I do honestly prefer to see friendships rather than romantic relationships developed.
It feels like I'm ragging on the books, but I really did enjoy them and do recommend them.  I'm just an English major who likes to be nit-picky. While I wouldn't count this trilogy as a new addition to my list of favorites, I did thoroughly enjoy it and think it well worth my time. I do plan on seeing the film adaptation even if they did switch Emma's powers from fire to air. Tim Burton is directing it, so I have high hopes. If you've read these books, hit me up in the comments, shoot me an email, or message me on tumblr because I'd love to talk more in depth about certain elements of the book that I just don't feel I can write about without giving away big plot points.
Here's the trailer–