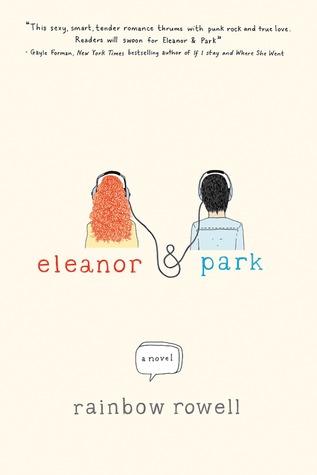 Ahhh, another unexpected read due to Christmas presents. I've had this book on my list to read for a while, so I was pretty excited to get it from my sister. While yes it is pushing back my plans to finish re-reading Harry Potter and to finally start Lord of the Rings, it was so enjoyable to read a nice fast YA romance again. It's been awhile.
Eleanor and Park follows the typical YA romance novel format — girl likes boy, boy likes girl, romance ensues. Sure there are complications in their lives that serve as temporary inhibitions to the relationship, but romance flourishes despite Eleanor's difficult family and her low social standing in school. 
I've liked all of Rainbow Rowell's novels so far.  In fact, I was reading Fangirl when I started this blog and read Attachments shortly after. Her books are typical romances but they don't feel like it. They have heart while still fulfilling my school-girl desires for love. Her endings almost always leave me feeling a little unsettled even though when I look back at the books, I couldn't imagine them finishing any other way. Eleanor and Park was no exception to the style I've come to expect from Rowell based on the two previous novels I've experienced from her.
While Eleanor and Park does indeed follow the standard YA romance plot and has many attributes that mark it as similar in a way to Rowell's other novels, I would definitely still consider picking it up. While the protagonists are high school students,  they have to deal with some pretty grown-up problems. Yes it's pretty clear right away who's going to end up together (hello, it's the title of the book), the particular way that their relationship forms is absolutely adorable.
In short, yes I would recommend this novel. It was a welcome break from the more dense works of literature I tend to have to read for school.