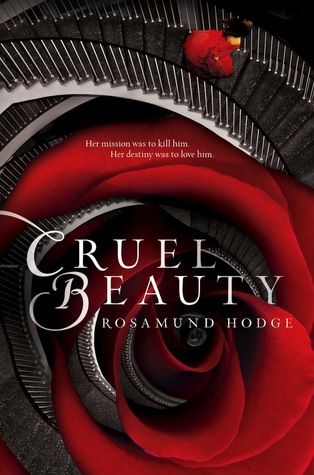 Look at that cover! Isn't is gorgeous? So anyways, over break I finally had the opportunity to read books that were not related to my classes or intellectual pursuits for once! It was great! (Though I didn't get to read as many as I would have liked, I kind of wasted a lot of my Thanksgiving break.) I wasn't going to read this one until Christmas break, but my mom gave me her old kindle and it was only $1.99 so…yeah I read this instead of doing to homework that I had.
Alright, so Cruel Beauty by Rosamund Hodge is a young adult fantasy. It's a mix between Beauty and the Beast and Greek Mythology. I personally love both of these inspirations, so I figured I would like this novel, and what do you know–I was right!
I enjoyed Nyx as the protagonist. She's not your stereotypical too-good-to-be-true princess. She has some darkness in her heart, but she recognizes that and still tries to do what's best for her kingdom (even though she isn't a princess in the beginning of the novel, that comes later). She's also really determined to figure everything out, which I really appreciated. There wasn't really ever a time in the book that she gave up.
Ignifex is wonderfully mischievous and never cruel–rather surprising considering he is Beast. His backstory is also pretty interesting. I won't say anything about it as I wouldn't want to give out too many spoilers.
I think I would have liked a bit of a heavier influence from Beauty and the Beast, because it's not exactly a retelling and that's kind of what I was hoping for. That's not to say I didn't fully enjoy her narrative, it just wasn't as heavily present as some of the reviews that I read lead me to believe.
But, as I love love, I was content with the romance aspect of the story. There were plenty of cute moments for me, even if I personally feel like the relationship needed a bit more building for me to fully believe their love.
In short, I would recommend this book if you are into YA Romance or Fantasy. It's a quick read and pleasurable enough for the time it took to get through. I wouldn't say it ranks all that highly on my overall list of books that I enjoyed (I gave it 3 stars on Goodreads), but I am still glad I read it.