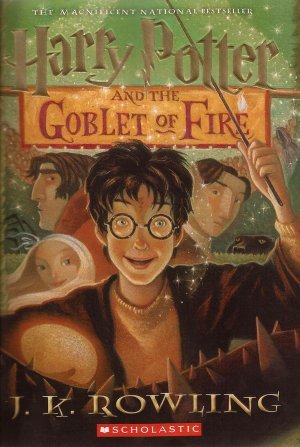 For the longest time Harry Potter and the Goblet of Fire has been my favorite installment of the Harry Potter franchise. I think it's because there are dragons. When I first read Harry Potter back in junior high, I read Eragon around the same time and became enchanted with all things dragon. The amount of dragon books I read that year is a bit ridiculous. Anyways, back to Harry Potter.
So I love a lot about this books (much like how I love a lot about all of the Harry Potter books). This installment in the series allows readers to see parts of the wizarding world that we have not seen before and frankly don't see much of afterwords. The Quidditch World Cup offers a chance to see a much larger variety of wizards than the previous books. Not only do we see international magical peoples, we also get to briefly glimpse wizarding families other than the Weasleys. For the first time we see very young wizards. As I have said before, I love the more mundane aspects of novels, especially when the plotline is rather fantastical, and thoroughly enjoyed seeing a toddler wizard play with his father's wand (which he wasn't supposed to be doing) and two magical children float around on their toy brooms.
The wizarding world continues to expand as Harry goes back to Hogwarts and discovers that international students will be joining the four houses for the Triwizard Tournament. Their arrival gives us a deeper understanding of J.K. Rowling's world. (Though I do wish that we had witnessed more interactions with the international wizarding students, but alas the plot must move on without too much of the mundane to keep the interest of the readers.)
I also sympathized with Ron a lot in this novel. His family's finances were always present in the series, but I feel like this installment really makes it more apparent. When at the World Cup, it is Harry who buys Ron's souvenir (though he states it will count as his Christmas present). Ron thinks he lucks out when he gets some leprechaun gold and can pay Harry back, but later finds out that the gold disappears after a few hours. At this point in the novel, Harry has already given Ron a Christmas present, thus Ron feels simultaneously guilty and embarrassed. It's just a small piece of the novel, but it really makes me feel for Ron.
And of course the main plot line is as riveting as ever, I just don't feel the need to state the obvious (but as I am me, I will). As you probably already know, Harry's fourth year at Hogwarts brings about all of the drama and excitement of the Triwizard Tournament, the mystery of how his name got put in, the danger of the challenges, and the return of Lord Voldemort. If that's not exciting to you, than I don't know what else would be.
Normally I would say that it's time to dive into The Order of the Phoenix, but as I am moving back to school tomorrow, I am not sure that I will have time to read for pleasure with all of the reading I will be doing in my literature classes. The amount of books I need this semester is a bit ridiculous. And as the last three Harry Potter books are rather hefty, I have decided not to take them to school with me. If I have more time than I believe I will have then I will resume my rereading with copies from the library, if not I will continue over Thanksgiving break.