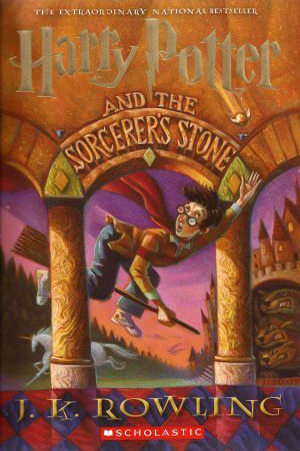 There's always something special about the first book in a series. It introduces the reader to the world that the author has woven, and that is exactly what I love about Harry Potter and the Sorcerer's Stone. I adored learning about the world that J.K. Rowling has imagined for the first time and rediscovering it again with this reread. The introduction to the magic, to Hogwarts, to quidditch, everything is new and explained in detail. The characters are built up from nothing, as is the story. True magic at its finest. Which is why the first book in any series is usually my favorite, but with this most recent reread of The Sorcerer's Stone, I have found that it is no longer my favorite. It's no secret that has Harry ages, each book gets darker. Now that I am older, I find I like the darker stories a bit better. But even though it is no longer on top in my mind, it still holds a special place in my heart as the book that begins this most wonderful series.
Side Note: I'm surprised at the high detail that I remembered everything that happened in Harry's first year. Every minute piece seemed to be waiting for me in my memory as I progressed through the novel.
Now on to The Chamber of Secrets.